I discovered Cool Story when I visited Mexican Express! They share the same store.
Cool Story serves fresh beverages – ranging from smoothies, tea, lattes and most of them are frozen. I was quite intrigued by their offerings and decided to try some of their frozen drinks.
I ordered 2 drinks – the Berry Happy Together Frocktail and the Desi Lemonade with a Jeera twist.
Let me first tell you about Berry Happy Together. They aren't kidding when they say frozen beverages – it is really that. So be prepared for way too much ice! But, their flavor, freshness of the ingredients and combinations are totally worth it. Berry Happy Together was a mix of berries – strawberry, blueberries, raspberries along with lemonade and some basil. I love a good berry drink and this one was pretty awesome too! Mixed berries have a nice tarty flavour and combine that with the sweet and sour nature of lemonade, you get this amazing taste. Of course, all of this is frozen so the the drink feels extremely refreshing, especially in this weather.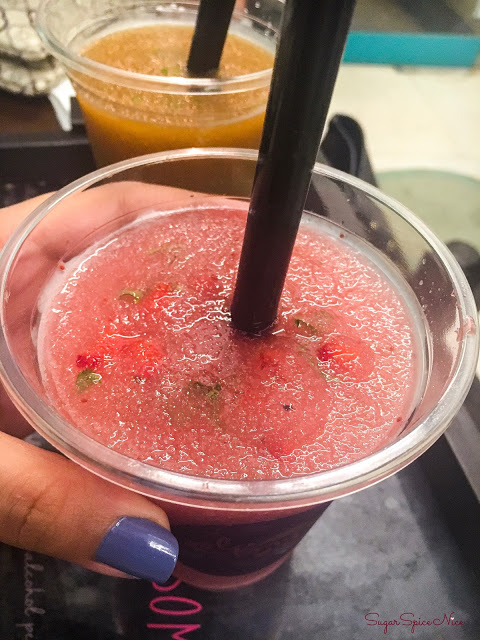 Next I tried their Lemonade with some Jeera. Just think of a nice desi nimbu paani – which is sweet and salted, and has some masalas and jeera powder. This is just that – only frozen. I absolutely loved it.
When you visit their outlet, don't miss their little vertical herb garden right outside the door. They grow their own herbs, like basil and a lot more. And their ingredients definitely feel super fresh.
Highly recommend trying out this place. Loads of variety – you will definitely find something interesting. And also, it's a perfect stop for that break in between shopping in Bandra!
Thank you so much for reading and stay tuned for my next post. XOXO!
Watch my last video here
Follow me on my Social Media:
Instagram 
Twitter 
Snapchat
Facebook