A Ranthambore Tiger Safari with a first timers luck! I spotted a tigress right at the gate of Ranthambore National Park and it just walked by my jeep.
I had a wonderful time here in Sawai Madhopur, Rajasthan in the Ranthambore National Park and Kipling lodge. This trip was just spectacular because I had many new experiences; I stayed in a lodge for the first time, tried my hands at clay pot making, saw a Tiger for the first time and a lot more. Let me show you everything you need to know to visit Ranthambore national park and Kipling lodge.
Watch my entire Ranthambore journey below!
Ranthambore National Park, Sawai Madhopur
Ranthambore National Park counts the most tiger sightings because it is home to about 80 tigers. It covers a vast area of 282 km and is habitat to many wild animals.
How to get there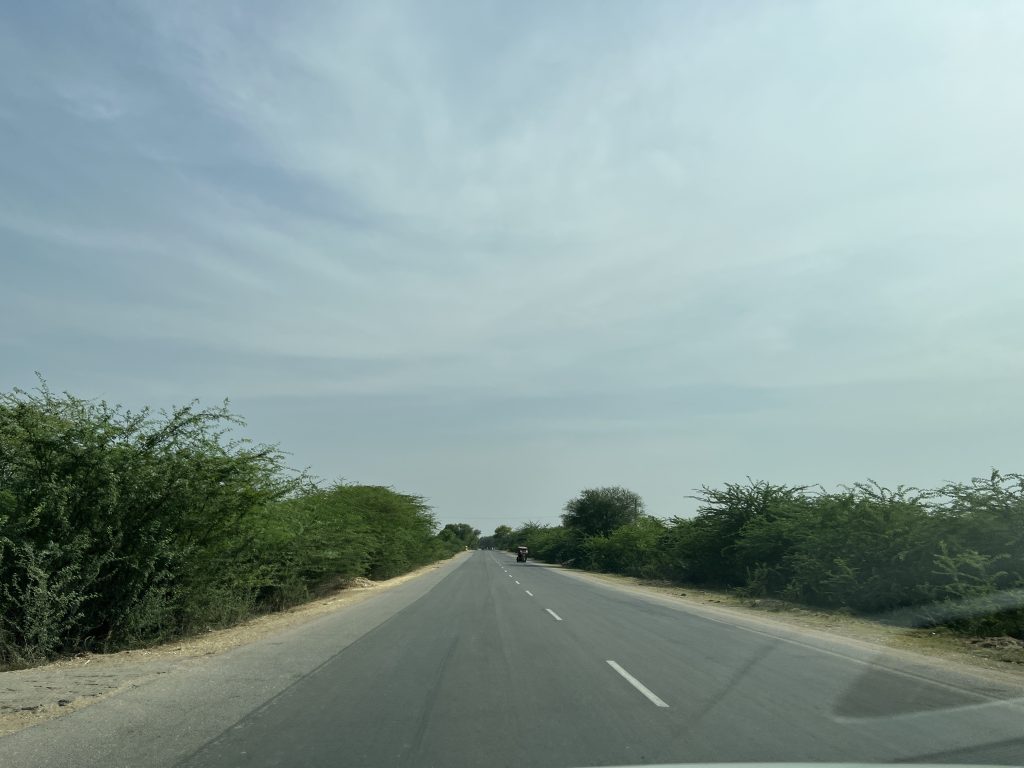 By air – The closest airport to the park is Jaipur International Airport at a distance of 160 km. You can travel by train or road from the Airport to the park. 
By Train – Sawai Madhopur Railway station is just 11 km away from the park, and most of the trains from major cities like Mumbai, Delhi, Jaipur, Agra halt here. Cab and a local bus will get you to the park. 
By Road – Ranthambore National park is connected by road to all major cities. 
Jaipur City to Ranthambore via NH23 170 km 3 to 4 hours depending of traffic
Delhi City to Ranthambore via NH48 351 km 6 to 7 hours
Mumbai City to Ranthambore via NH52 1088 km more than 21 hours
Tiger Safari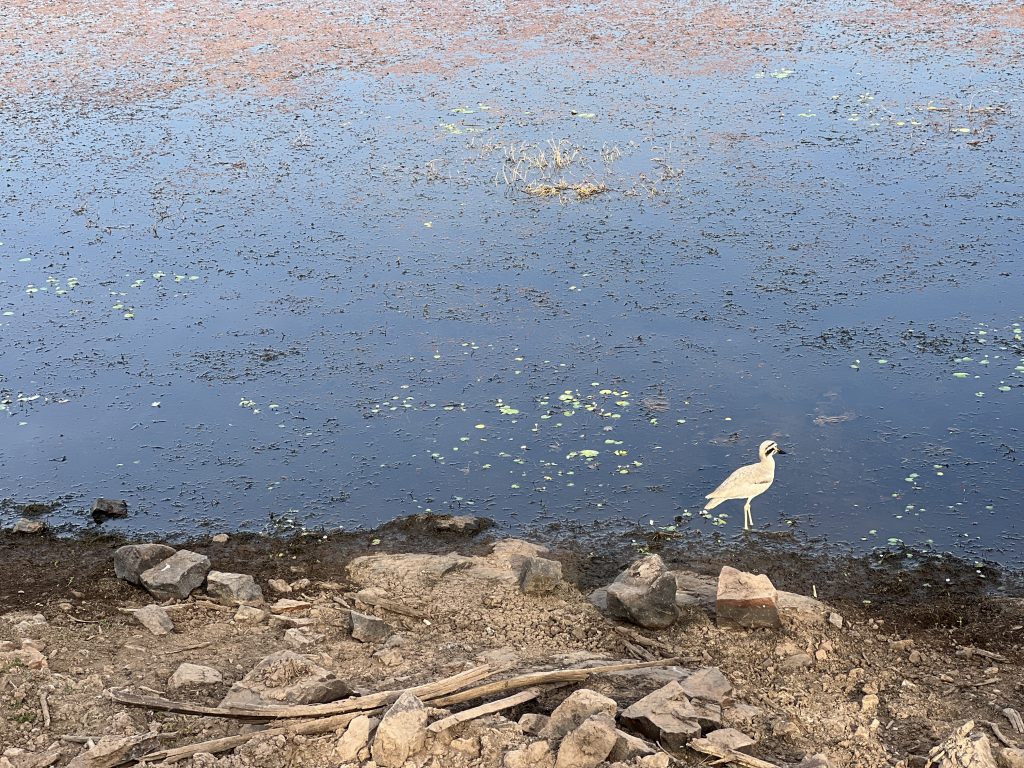 The best way to book your safari is through your hotel. The entire park is divided into ten zones and each zone has a varied range of wildlife sightings. 
You can either select Zones 1 to 7 or Zones 8 to 10. Although tigers are spread throughout the park, you are likely to spot more in zones 1 to 6 which have the most number of water holes. But I spotted one right at the gate as we entered, so it might depend a little bit on your luck and timing!
Safari timing
Morning safari 06.30 am – 10.00 am
evening safari 02.30 pm – 06.00 pm
Stay updated with their website about any changes in the time or schedule.
Private Vehicles are only allowed upto the Ganesh Temple and Ranthambore Fort. So you have to book a jeep or a Canter in order to move further and have the complete experience of a jungle safari.
Safari Vehicles
Shared Canter Safari
This is a 15-20 seater open roof bus
Rs.1500-1800 per person
Shared Jeep Safari
This is a open roof Gypsy which carries 6 people, plus 2 (Guide and driver)
Rs. 2300-2500 per person
Private jeep Safari
Your own private jeep which would be just you (and your people) and the guide and driver.
Rs.15000 or more
The best season to visit is from October to June. The park stays open all around the year, although in monsoon some zones are closed and the time for entry and exit might also change. You can also opt for a full day Safari as well, which would last about 12 hours and cost a lot more.
After you spot a tiger, you can't just relax because there is still so much you have to explore..
So stay sharp and Don't miss this in Ranthambore National Park!
Ranthambore Fort- A majestic fort since 994 AD which witnessed so many battles.
Birdwatching- Peacocks and Parakeets, Kingfisher, Bulbuls and just so many of them.
Other wildlife- You might also spot leopards, Sambhar, Chinkara, Indian Wild Boar.
Raj Bagh ruins- Another historic structure which you can see during the Safari.
Padam Talao- A large water body where you can stop for a few minutes and spot many wild animals.
I spotted a peacock, Sambhar and Spotted deer, and even saw some shedded antlers. Click on this link to catch a glimpse of this amazing safari.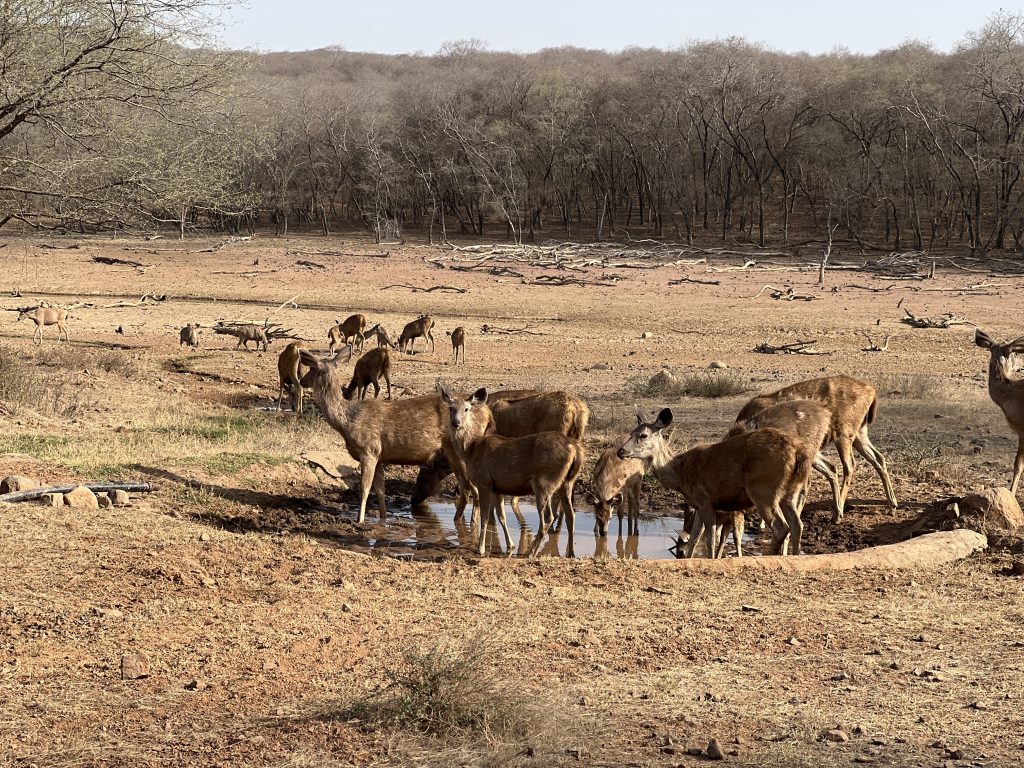 If you are a nature enthusiast, love bird watching and of course wish to see a tiger up close, book your Safari now!
The Kipling Lodge, Charoda Rd, Sawai Madhopur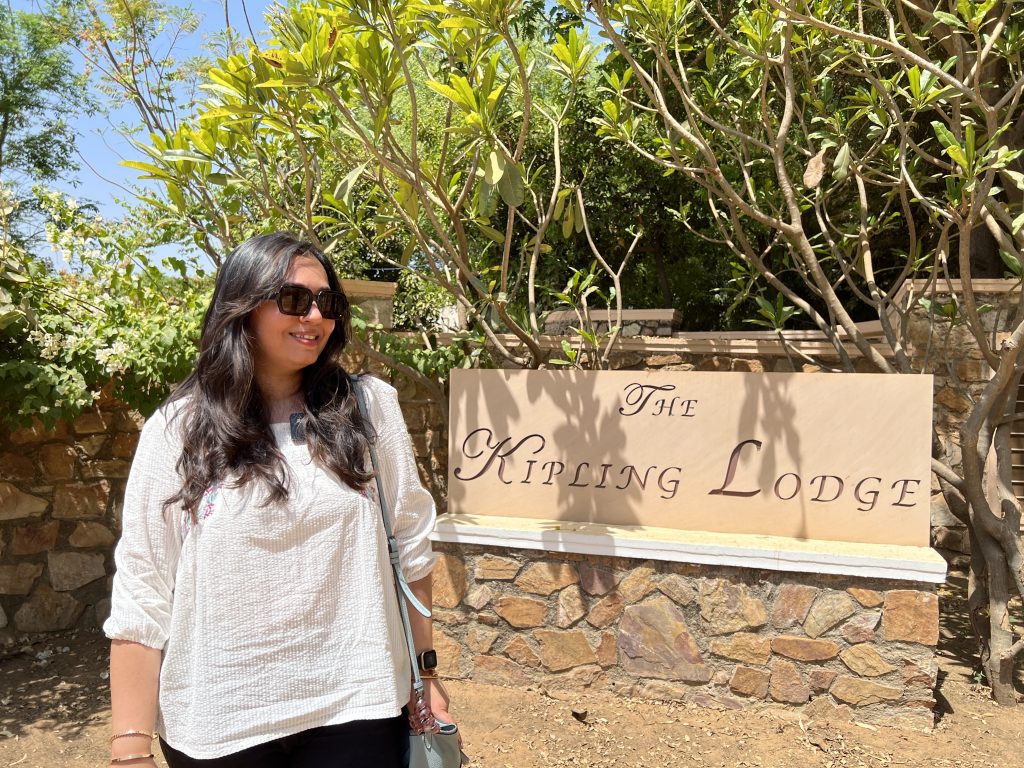 The Kipling Lodge is a serene property nestled close to the Ranthambore National Park. The entire property is surrounded by lush greenery, vibrant flowers and purple lotuses blooming in tiny ponds. Named after Rudyard Kipling, an enigmatic writer who holds a special place in all our hearts, this place succeeds to do the same.
Rooms in The Kipling Lodge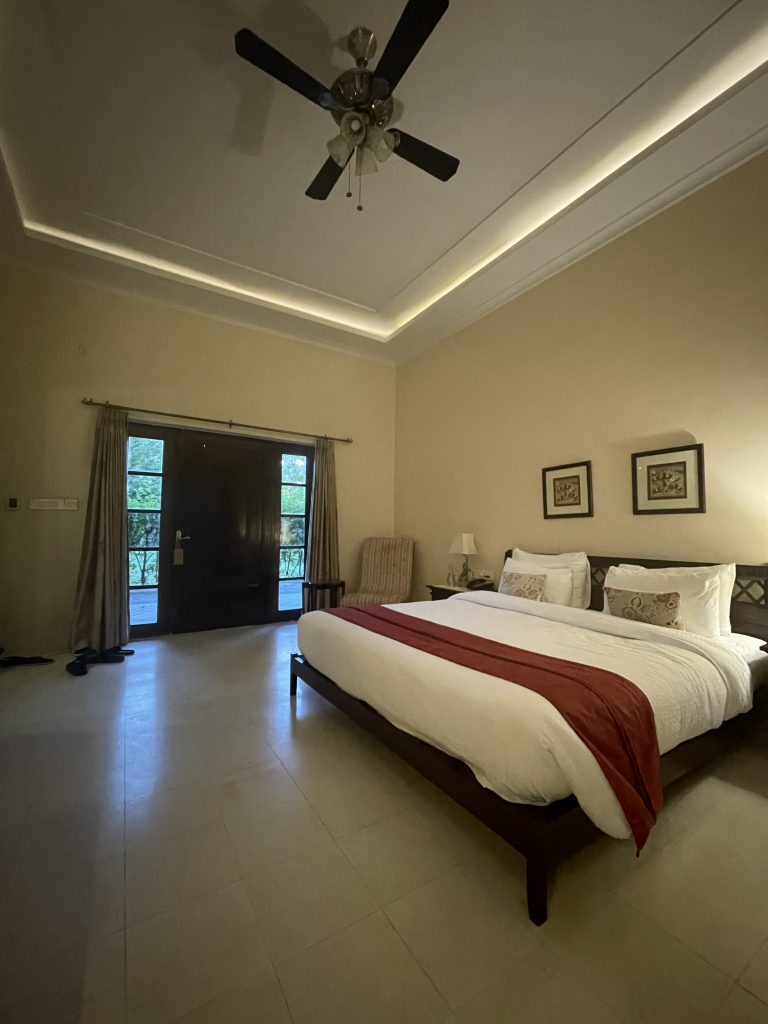 Superior Garden Rooms
Accommodate upto 3 people and have a Garden view
Rs.15,000/- per night all meals included
Majestic Suites
A suite with enough space for about 3 people and a Garden view
Rs.24,000/- per night all meals included
Junior Terrace Suites
These have a terrace attached to them, and are smaller than the majestic suite. Perfect for 3 people.
Rs.20,000/- per night all meals included
Check-in time 2.00 pm
Check-out time 12.00 pm
What's the food like?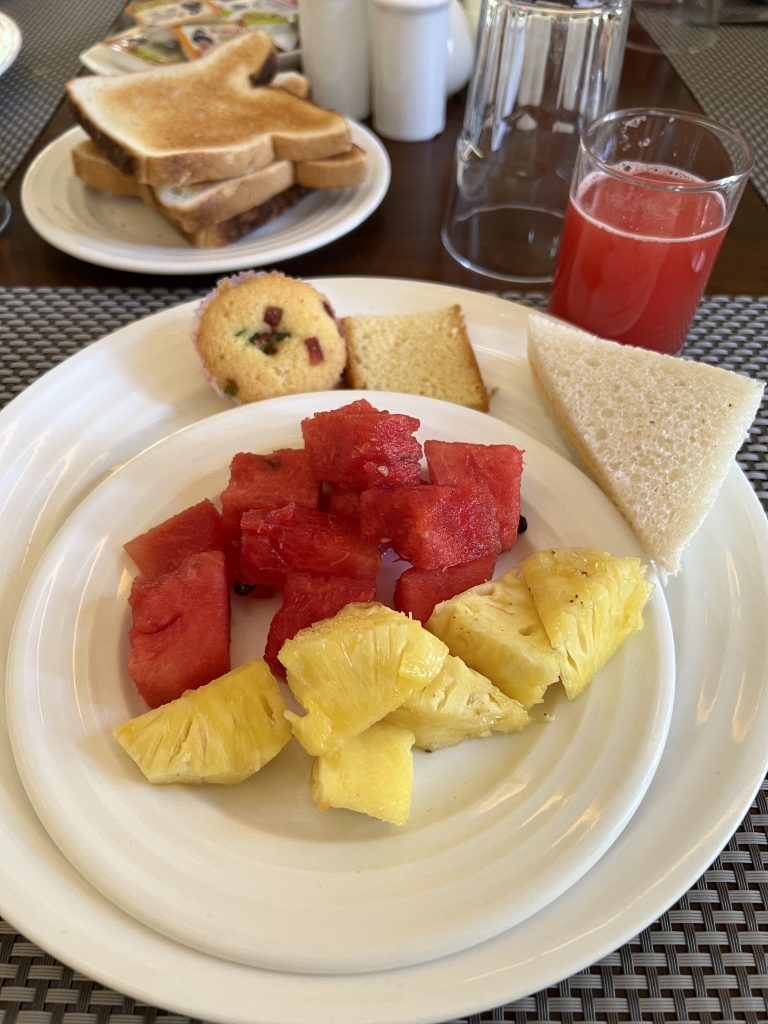 I tried a bunch of different cuisines here and I have to say I loved Chinese food the most. I also enjoyed their breakfast which had so many options and the irresistible chocolate brownie with ice cream.
Amenities
Free Wifi
Parking
Library
Room Service
Activities
Swimming Pool
Wellness and Spa
Clay pot making
Souvenir Shop
I thoroughly enjoyed every bit of this trip. I am still obsessed over watching a tigress from such a short distance. The soothing climate at Kipling Lodge and their lovely staff and management made this experience spectacular.
Share this with your nature enthusiast friends.
Click here and watch more such videos on my youtube channel