Taftoon BKC takes you on a delectable journey across flavors from the Grand Trunk Road.
Taftoon means bread in Persian and at Taftoon BKC not only can you expect a variety of bread, but also some flavorful gravies, kebabs and lots more.
I recently had the chance to visit Taftoon BKC and here is what I had.
Kashmiri Kahwa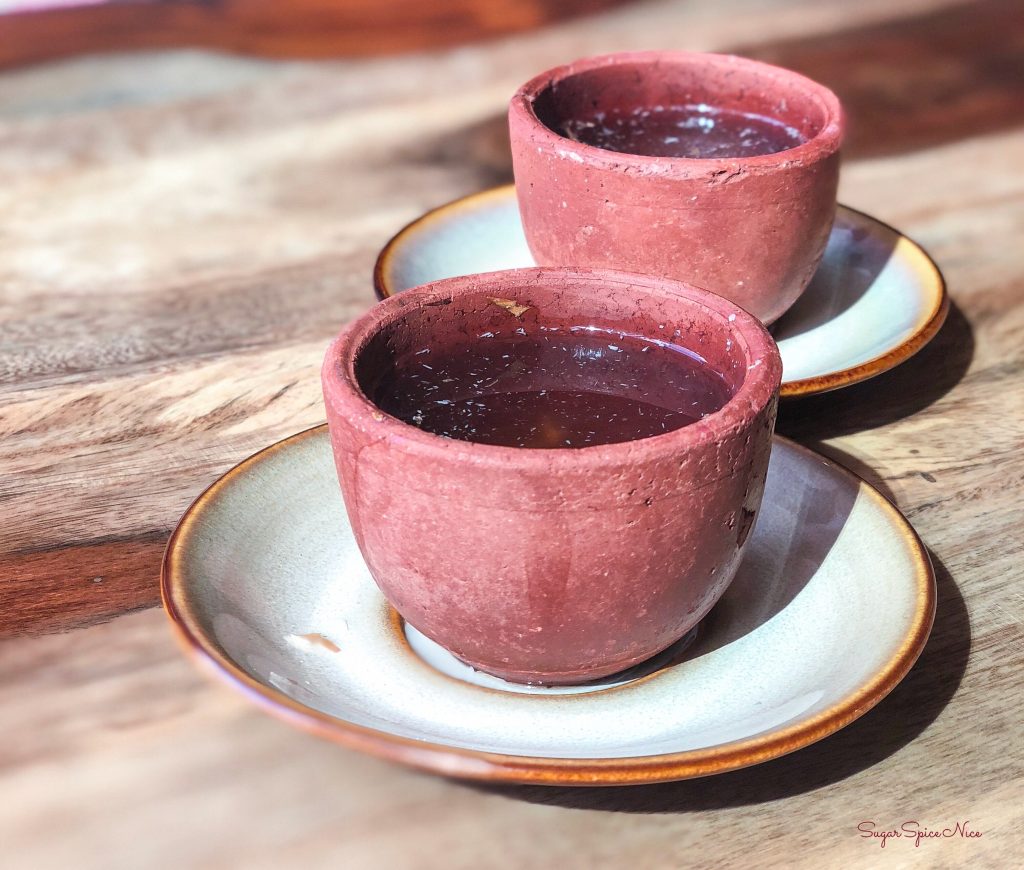 I couldn't have asked for a better start to my meal at Taftoon. They served up some warm Kashmiri Kahwa, complete with a lot of chopped almonds. Hot and beautifully sweet with honey. And the feel of having this in kulhads was incomparable.
Dahi Bhutteyan Kebab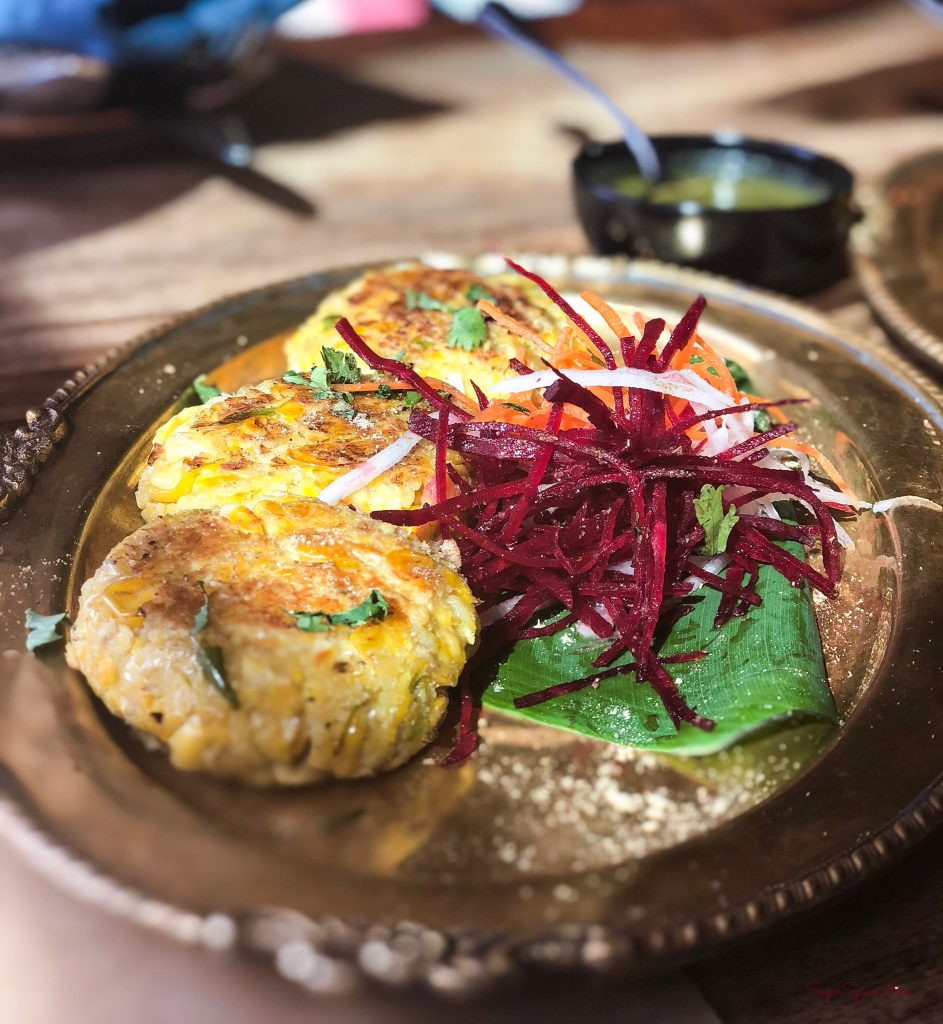 These were kebabs made from corn and hung curd. They had a sweet and spicy kind of flavor and were served with a delicious mint chutney.
Mochar Cutlets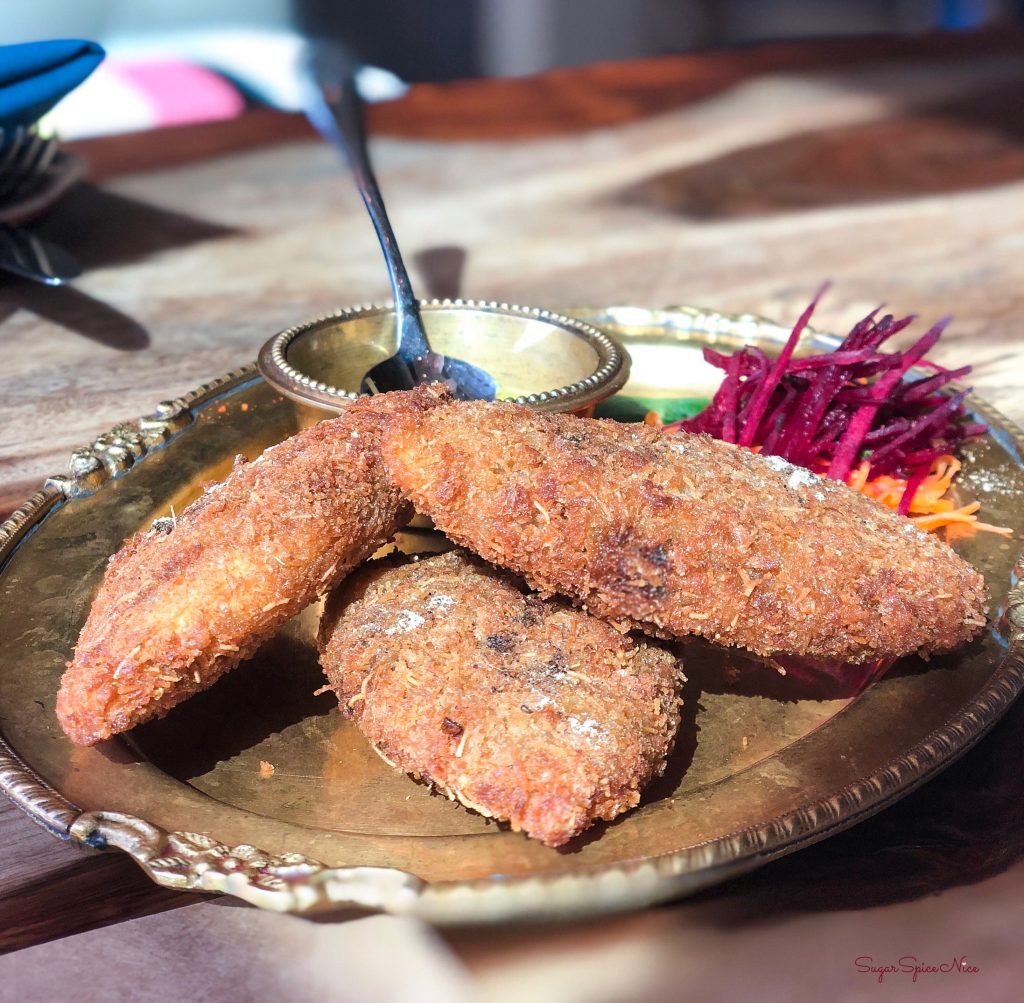 Their crunchy texture is so good and when you have these with the mustard dip, it is the most delightful combination.
Chatpatey Paneer Tikke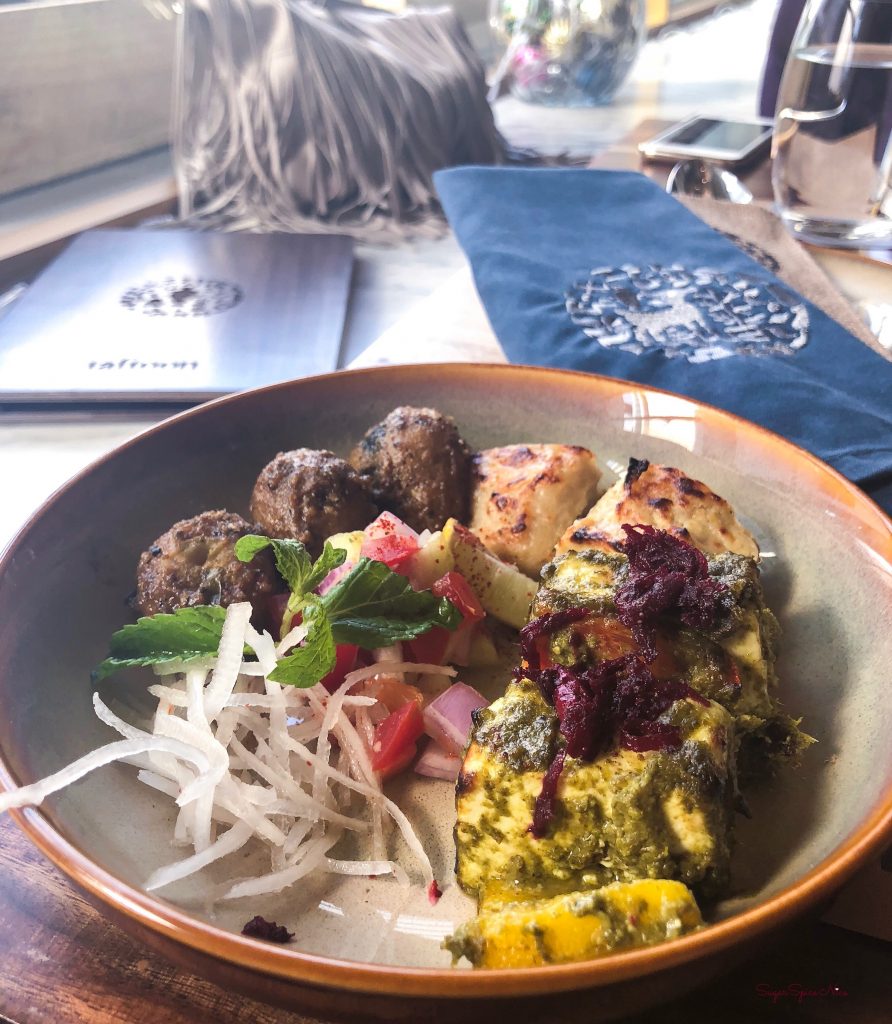 Soft paneer cubes marinated in a tangy chutney of sorts – these were tasty beyond imagination.
Teen Miri Aloo
Something as simple as potatoes and pepper but done so well.
Soya Chaap
Very interesting flavor – soya marinated in a masala that had a ton of garlic and yoghurt.
Chotey Kulche Chhole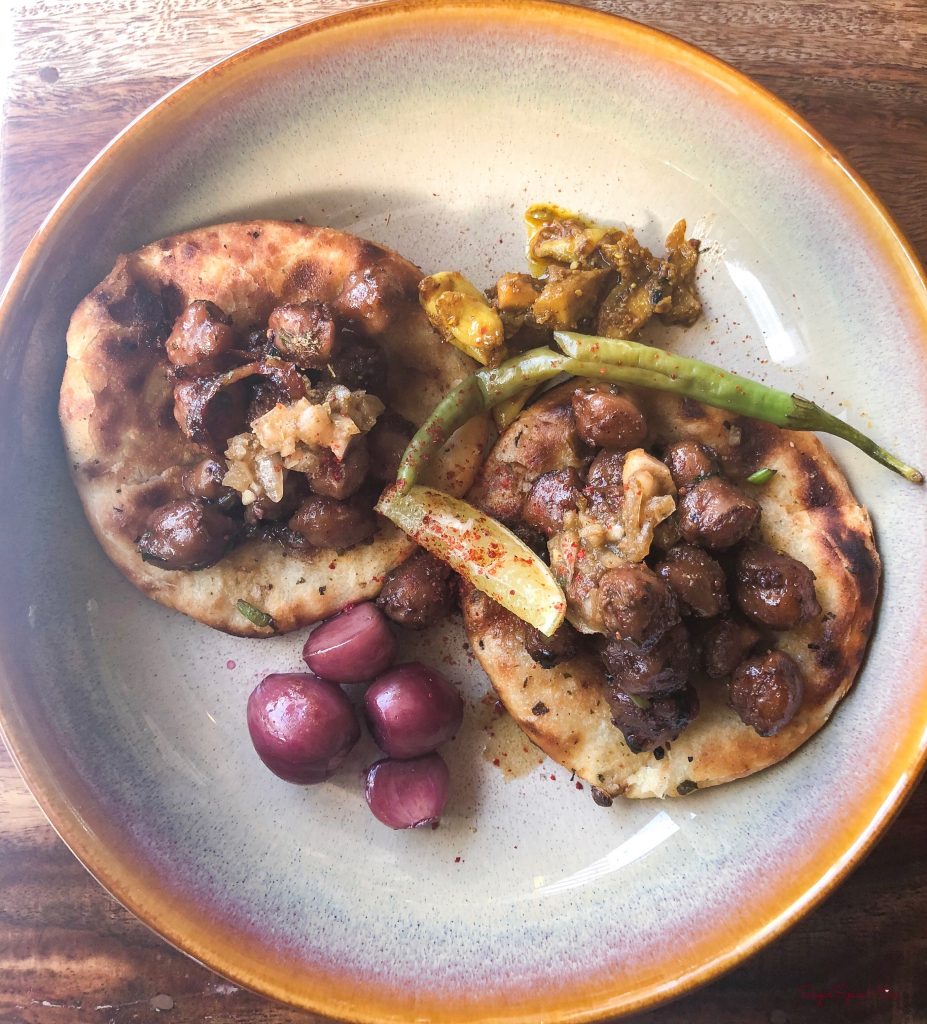 A very good portion size for someone wanting to have a solo meal. The Kulcha was stuffed with a delicious masaledaar filling, along with the chhole placed on top of it. And some pickled onions to go with this.
Mushroom Pe Harissa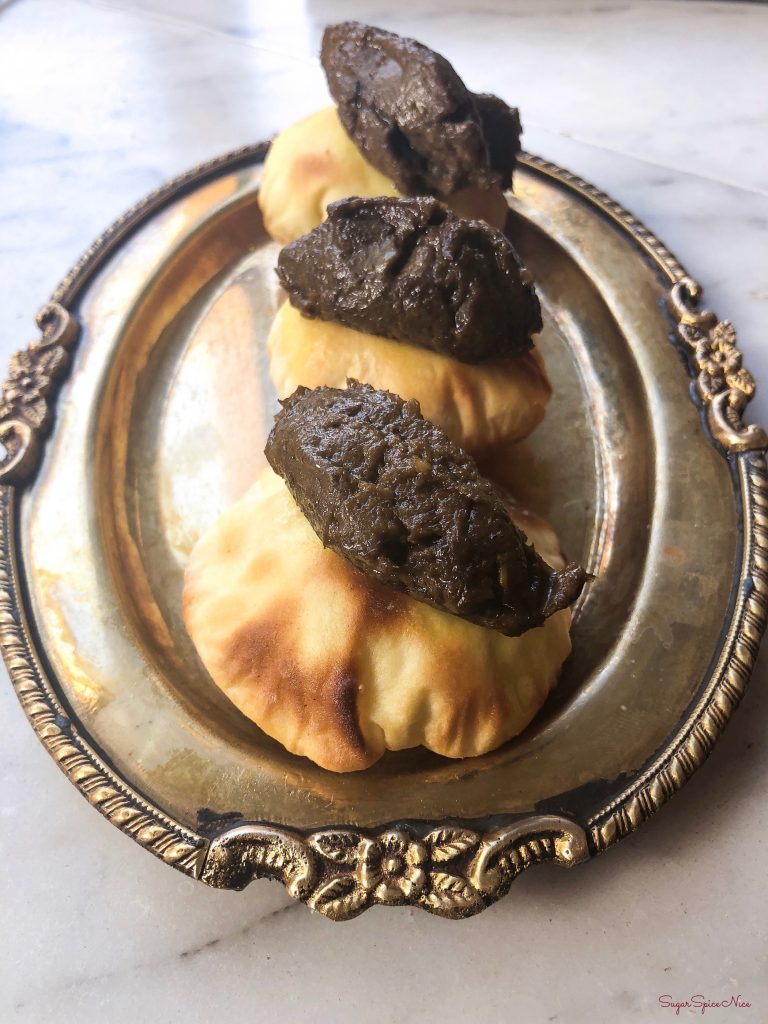 As yummy as they look!
Malai Broccoli and Gobi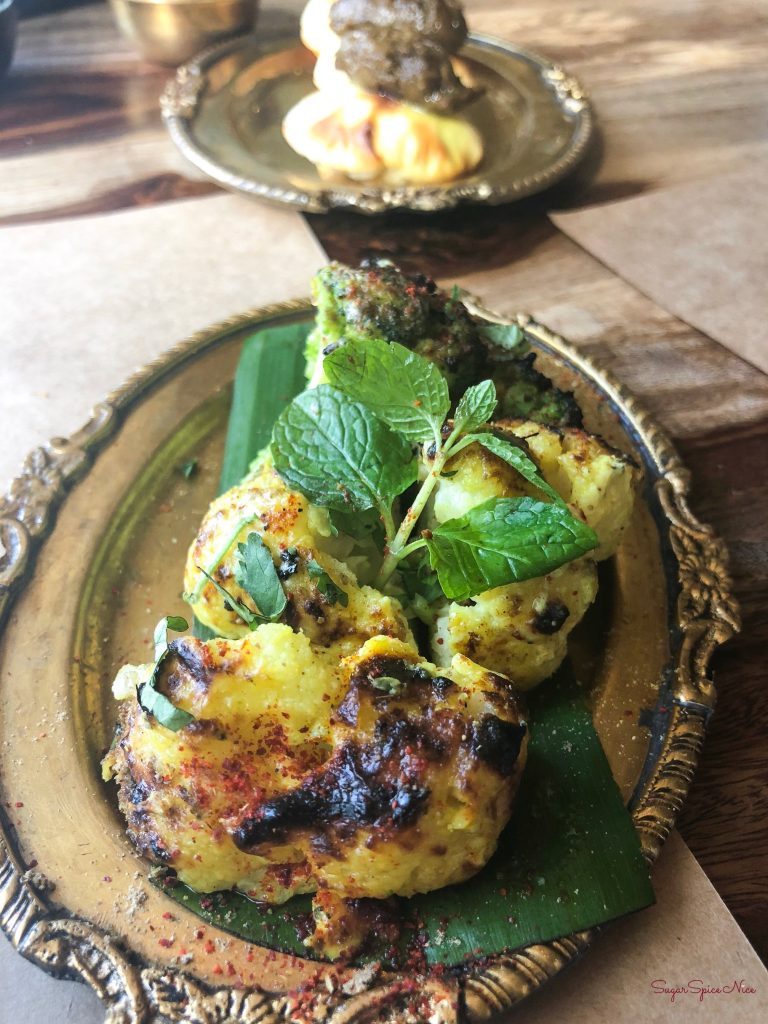 Cauliflower and broccoli in a delicious tandoori marinate.
Jal Jeera Palate Cleanser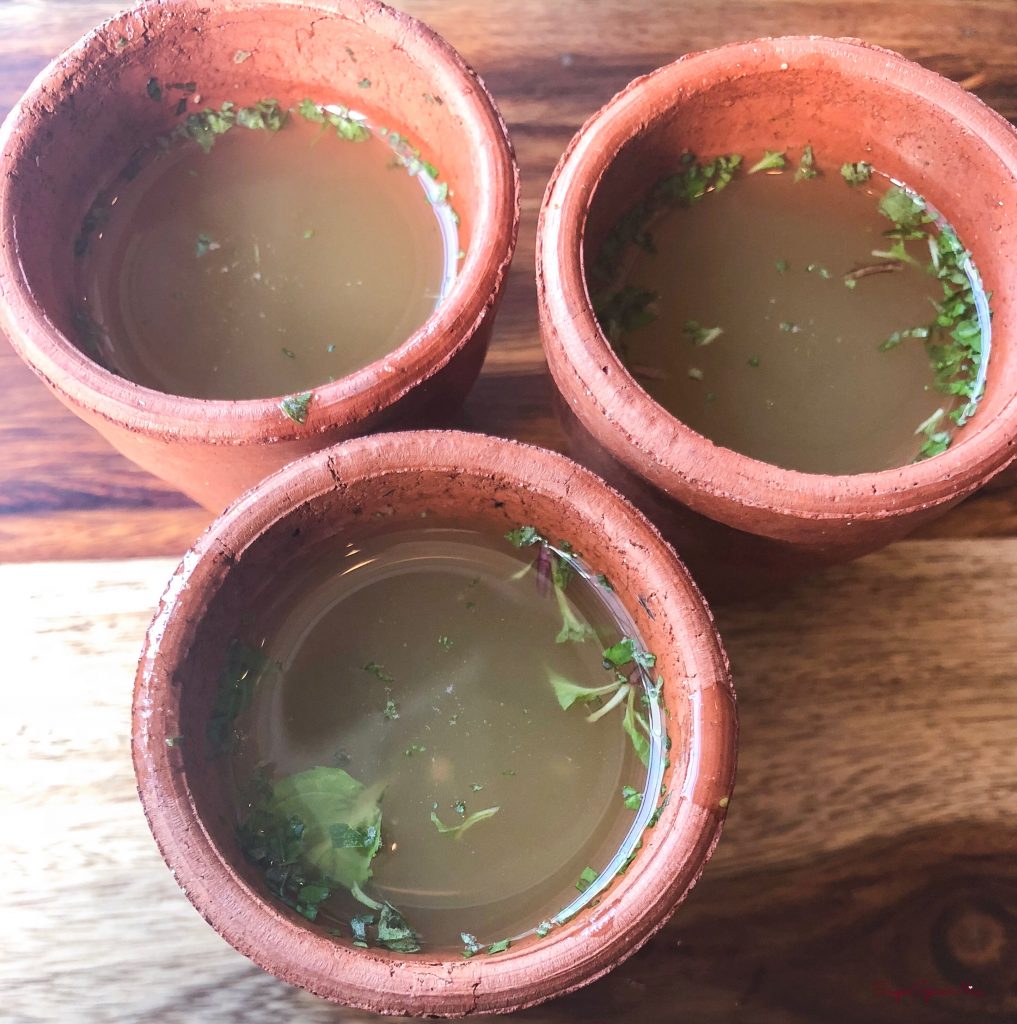 In between courses, you get a portion of this delicious Jal Jeera Palate cleanser which has the perfect blend. And it will leave you wanting for more!
Chholar Dal Luchi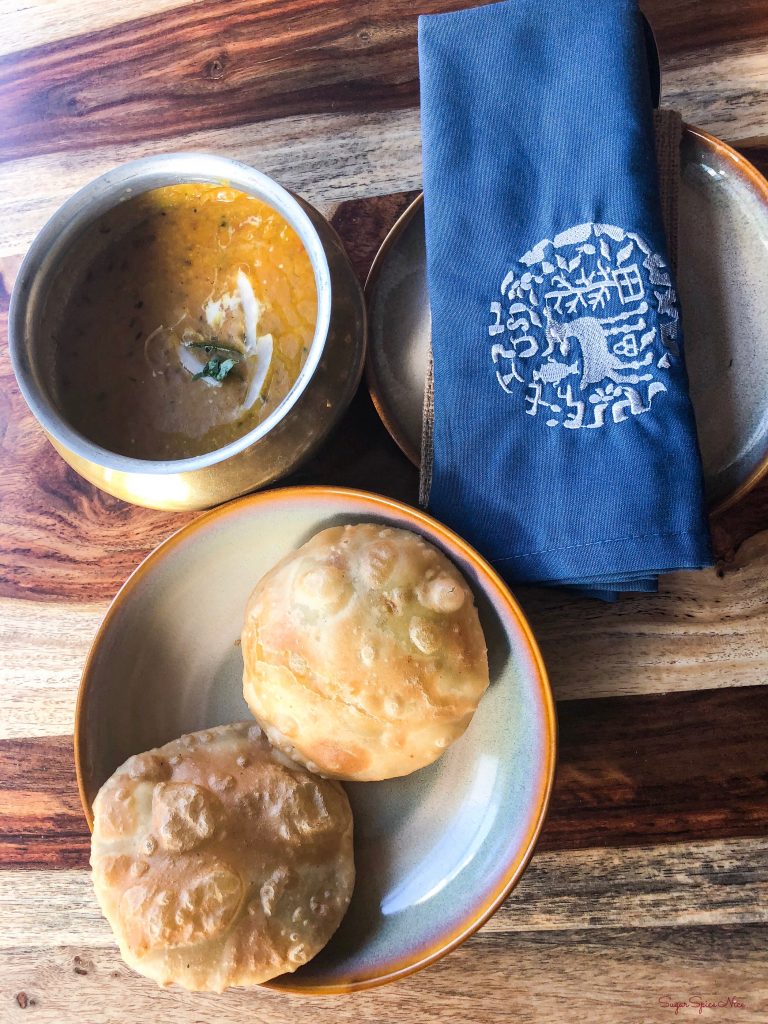 Chana dal made with lots of ghee and flavored with a lot of whole spices – this is one delicious item on their menu. Try this with luchis (puris) and you will be sorted.
Bharwaan Kadhai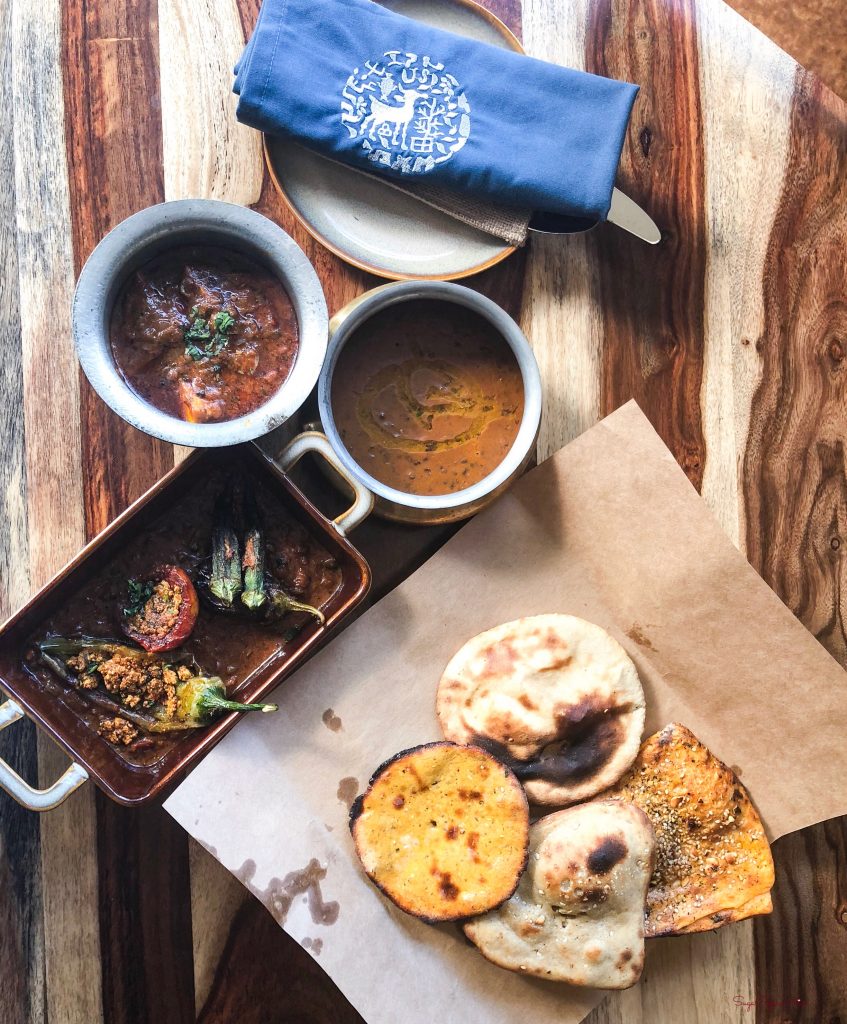 This has bhindi, mircha, brinjal, tomatoes that are stuffed with paneer. It has a delicious taste from the sweet and sour tomato gravy and the heavy flavoring from onion and ginger.
I relished this with some Lal Naan which is a crisp Amritsari roti topped with sesame seeds, Khamiri Roti, Besan Ki Roti which was perfect. On the side here was also some Maa Choliya Ki Dal which was mainly rajma and black dal, with a lovely creamy feel.
Lal Rogani Paneer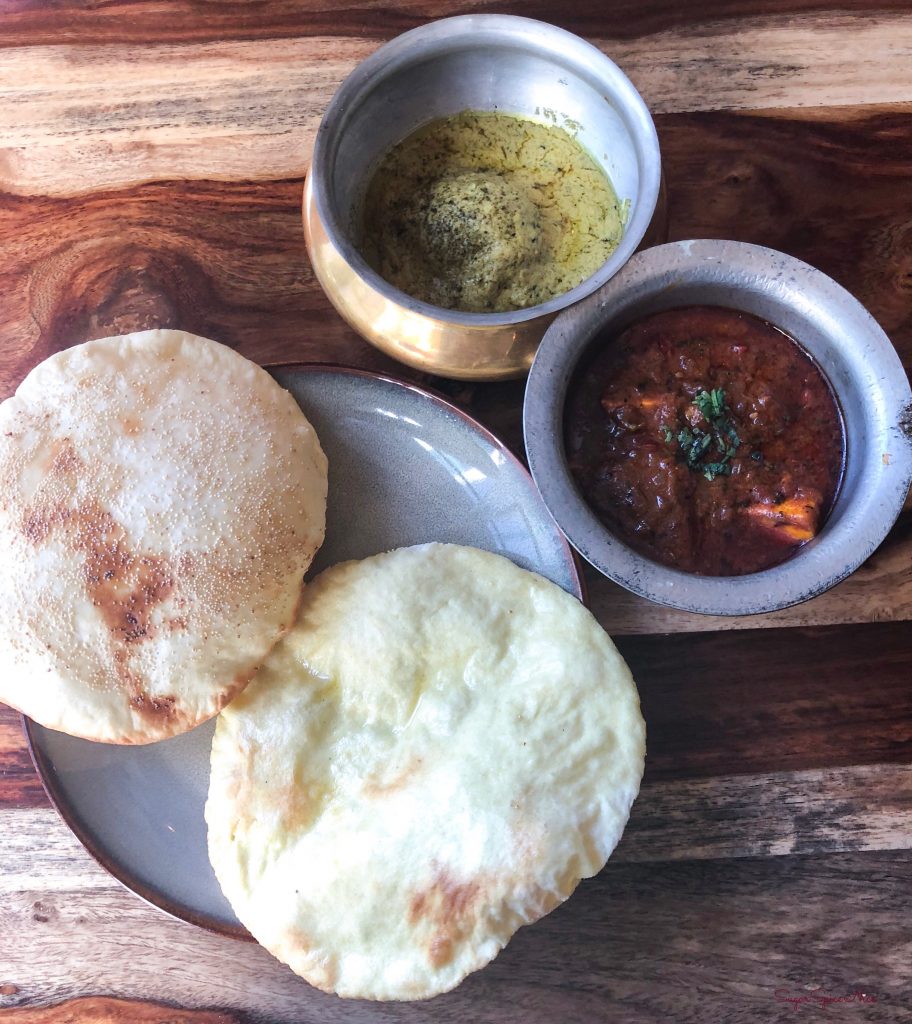 Paneer cubes in another delicious tomato gravy with a very peculiar flavor.
Kofta Al Yakhni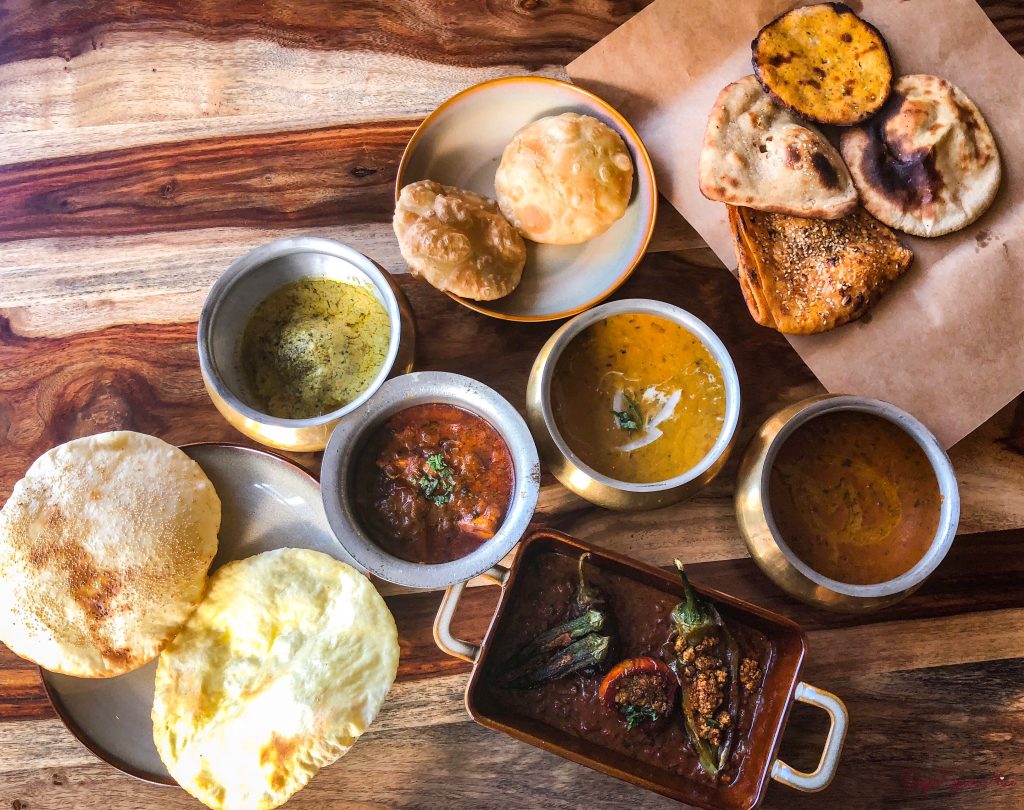 Lauki kofta in a mildly sour, yoghurt based gravy. Thoroughly enjoyed this with the Zaffrani Taftoon which had a very mild flavoring from saffron and cardamom.
Kaju Anjeer Malai Kulfi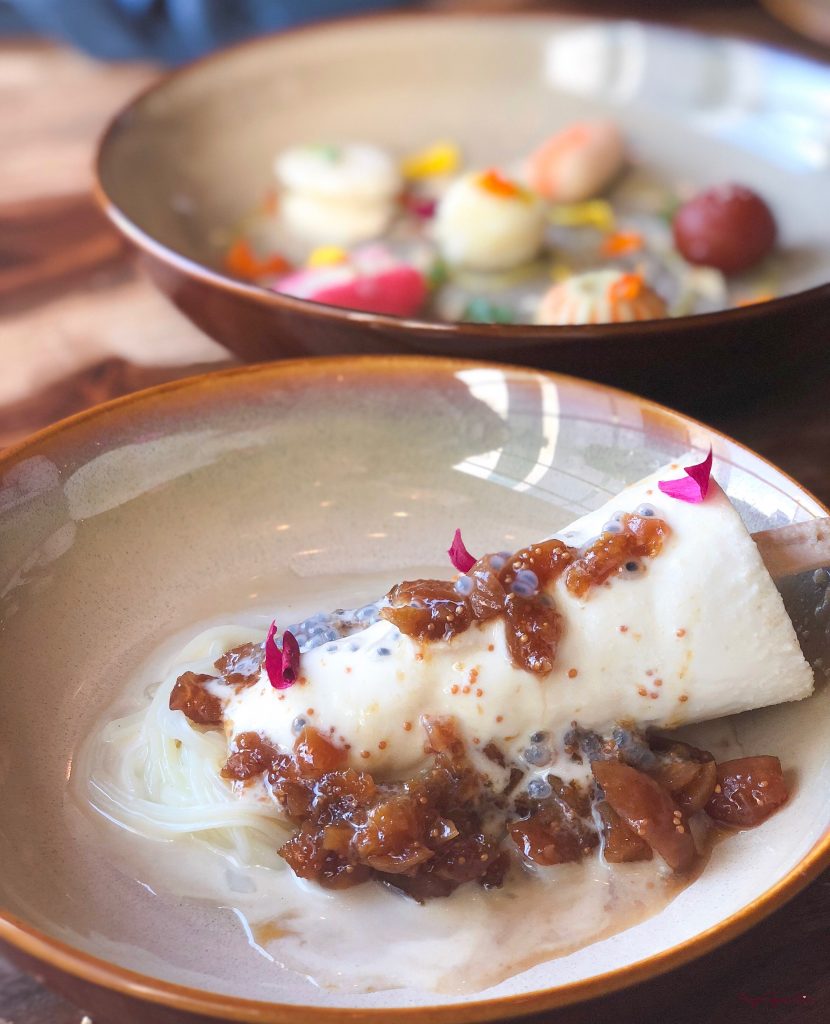 This took my love for malai kulfi to a whole new level. Really creamy kulfi topped with caramelized figs and some chia seeds.
Chhena Platter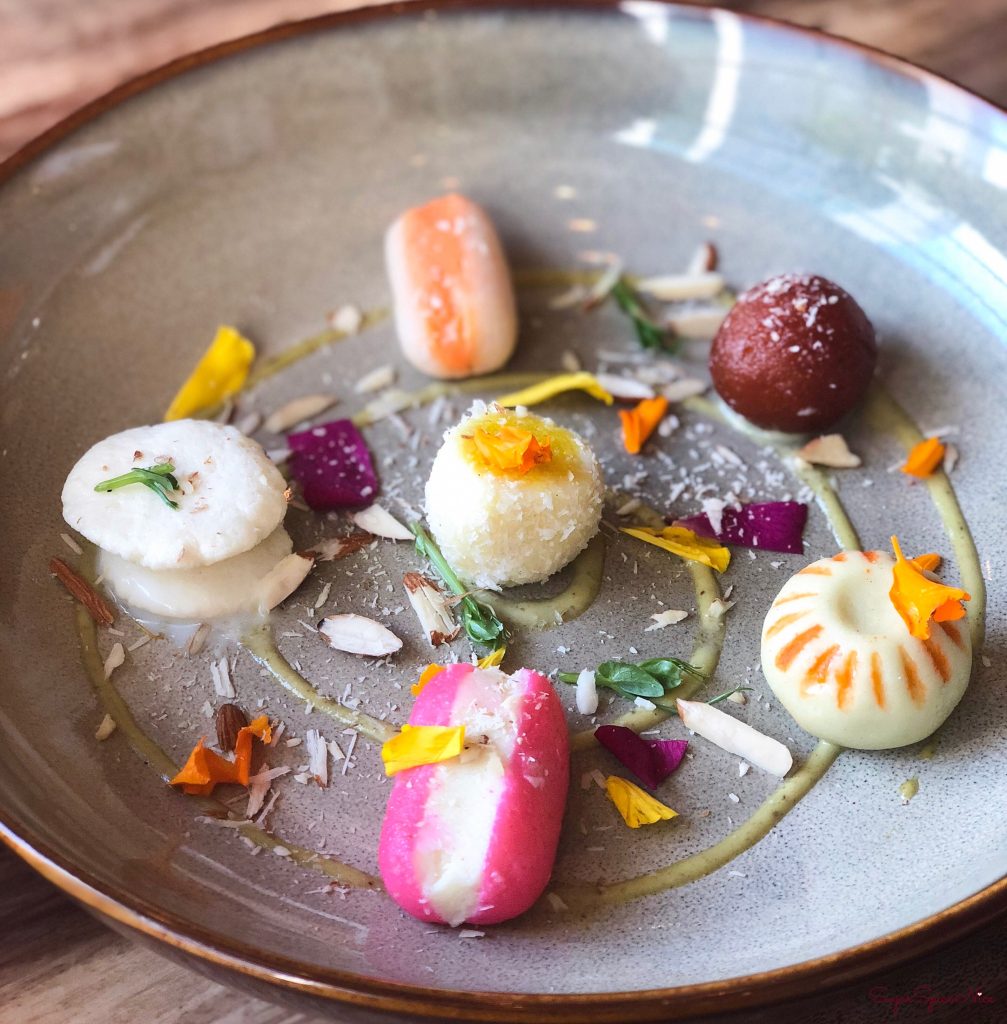 A plate full of bite sized sweets – included ras malai, gulab jamun, rose sandwich sandesh and kheer kodom. Perfect if you like variety in your dessert.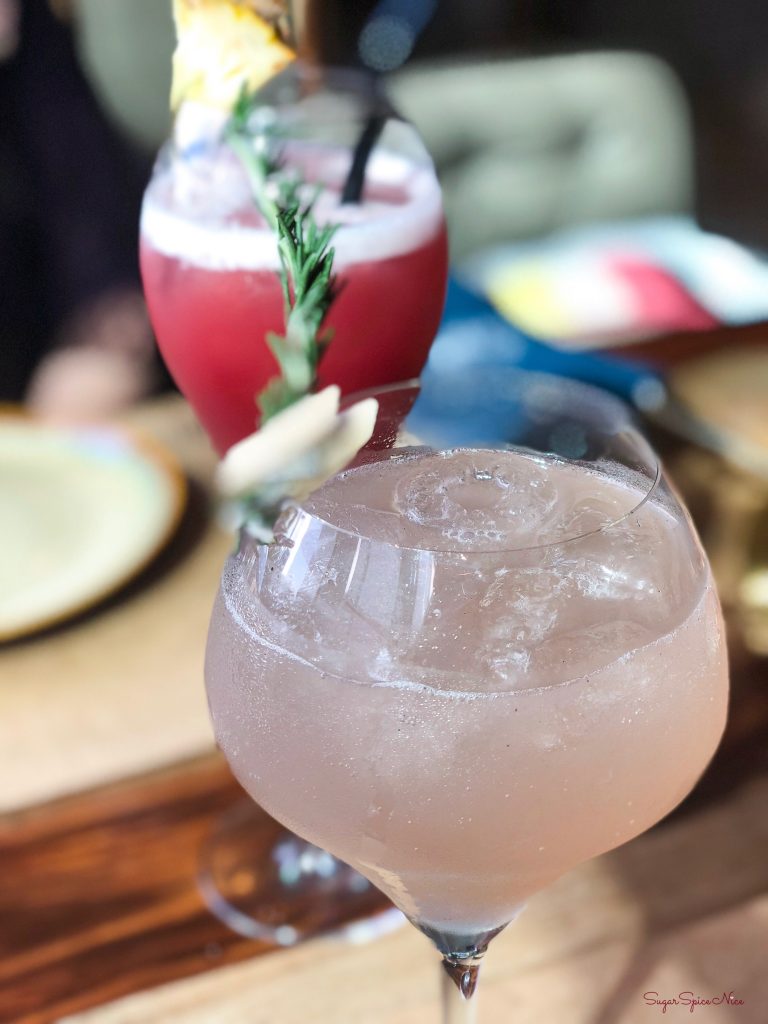 You can also enjoy mocktails and cocktails here. I tried something called The Botanical Blend and it was very light and refreshing. It contained rosemary, ginger-honey syrup, lime juice, gin and some tonic water. I also tried something called Elixir of the Hills and this was a white rum based drink with a basil flavor and some pineapple juice, hibiscus syrup and a sour mix.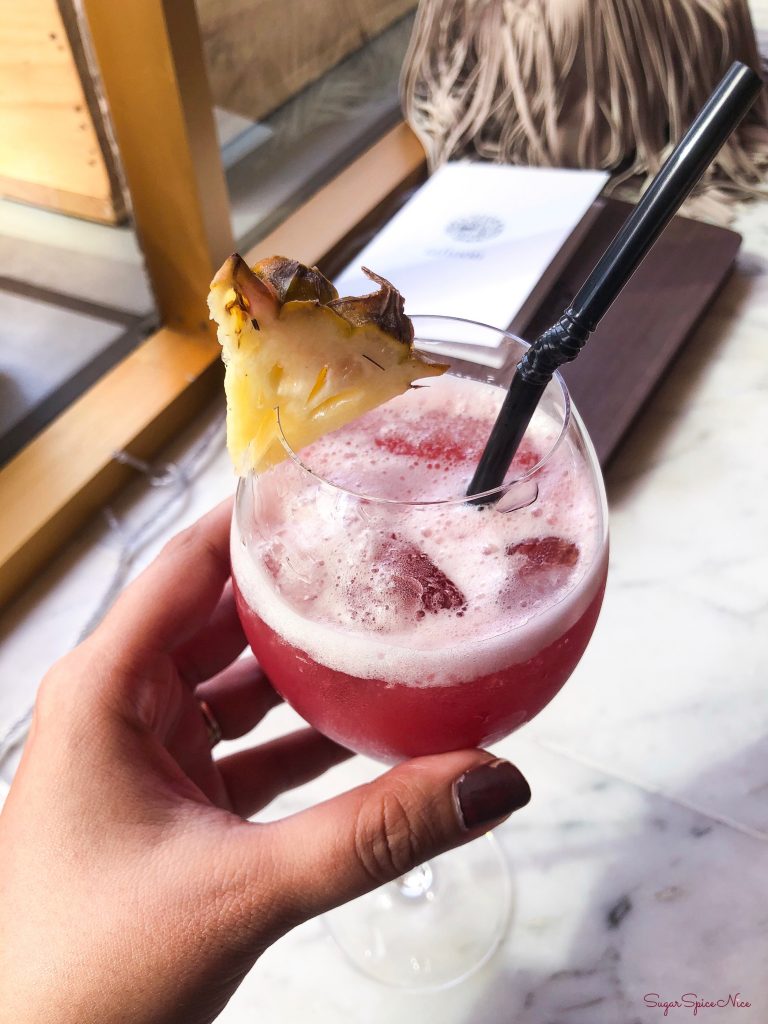 If you are looking to eat some good Indian food which is complete with good taste and an ever greater experience then definitely have Taftoon on your list. It's a great place for a special occasion and I'm sure you will love it.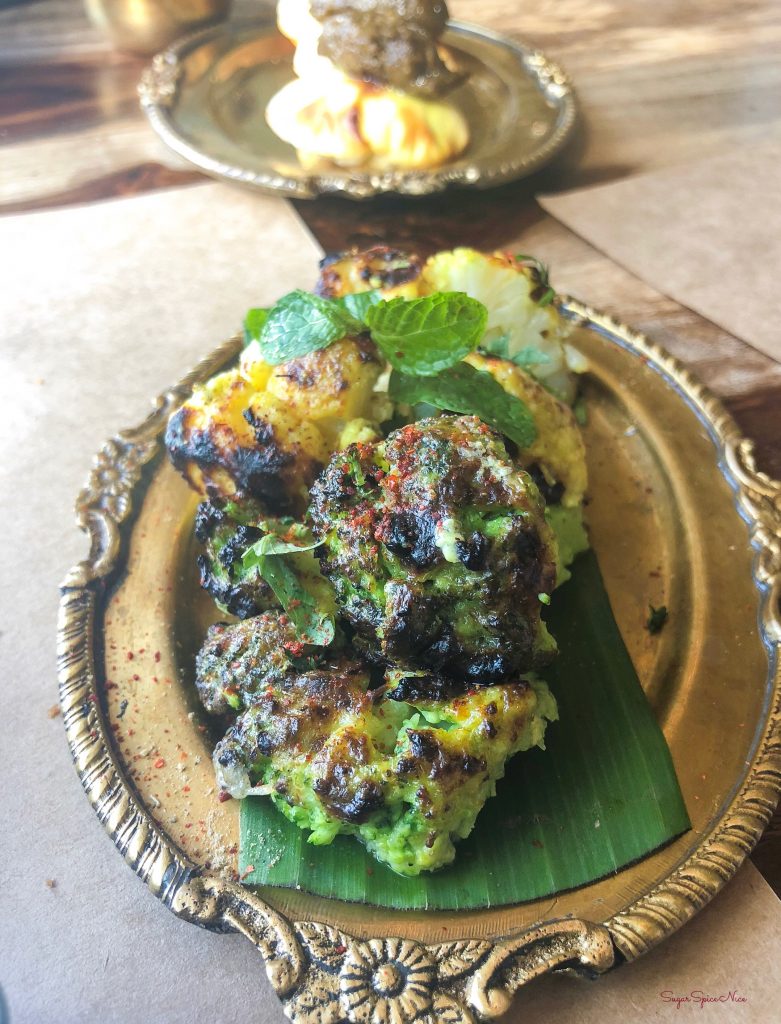 I hope this post was helpful. Stay tuned for my next one.
Watch some of my videos on Youtube.
Follow me on my Social Media: