Old Dubai has its own charm.
A lot of people feel that Dubai is all about tall buildings and malls, but I bet you haven't seen Old Dubai.
Watch this video to get the real feel of Old Dubai – all the markets, the souks and all the must visit places.
Subscribe to my Youtube channel here
Here are all the places you need to visit while exploring Old Dubai. This also includes a few shopping tips and tricks. Read on!
Meena Bazar
Famous street in Dubai which is also a known area for all jewellery stores. Apart from jewellery, you will also find a lot of fabric stores, perfume shops and Indian and Pakistani restaurants.
The name Meena Bazar has a very intersting history. The road is actually called Al-Ghubaiba road; but because of a very famous fabric store, back in the day, called Meena Bazar the name sticks! When in Meena Bazar, you can shop all you like; but one experience that is bound to come your way is of people selling fakes – especially replica bags and sunglasses. So be wary of them.
The street actually has a lot of Gold shops, but the one I recommend is Meena Jewellers. Their designs are impeccable. I also recommend a perfume shop called Ratans. Tester perfumes sold much below MRP and also a lot of cheap local perfumes. Another thing I recommend buying in Meena Bazar are lace sarees – they have the pretties chantilly lace fabrics and you can get them for an amazing deal sometimes. I also recommend buying chiffon sarees here – you can buy them plain or with a slight gold border and the shades are just awesome.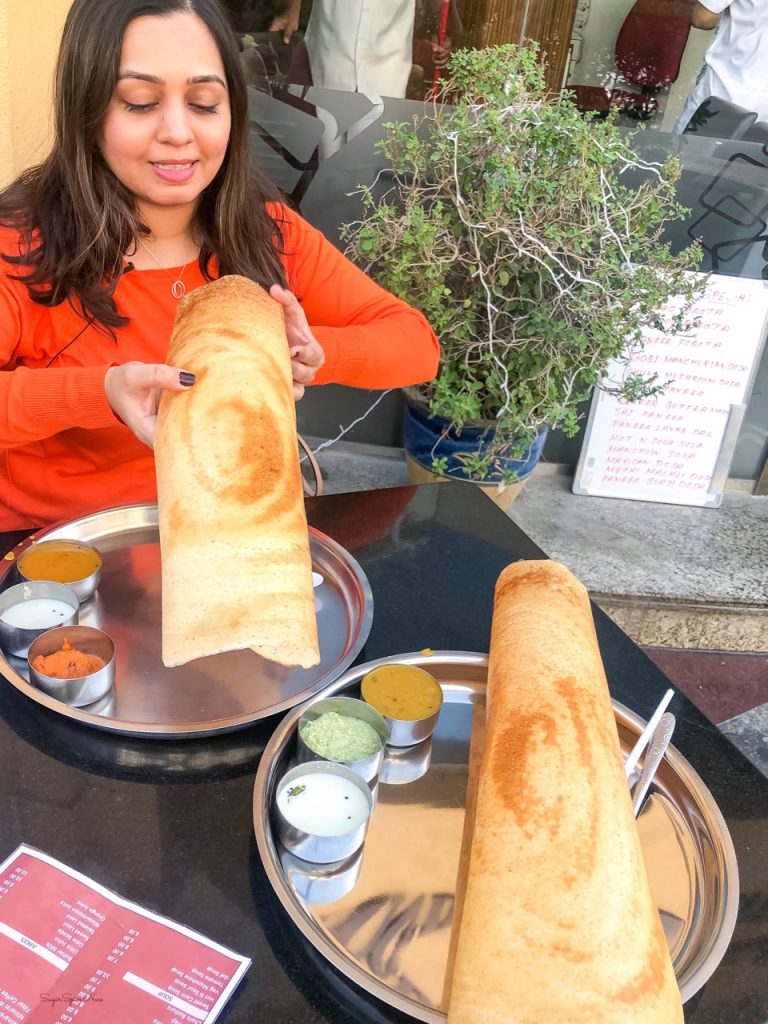 If you're looking for Indian Food then there are a lot of options in Meena Bazar. You can savor a thali from Puranmal to chaat from Kailash Parbat and even south Indian food in Woodlands.
Dubai Museum
This is located inside the Al Fahidi fort and is a great place to witness a bit more of history. They do have an entry fee of AED3 per person and you can also view the Grand mosque from across the museum.
Bur Dubai Souk
Right before you hit the pier for the abra ride, you will come across a little souk called the Bur Dubai Souk. This is a good prelude to the bigger souks on the other side of Dubai creek.
Abra Ride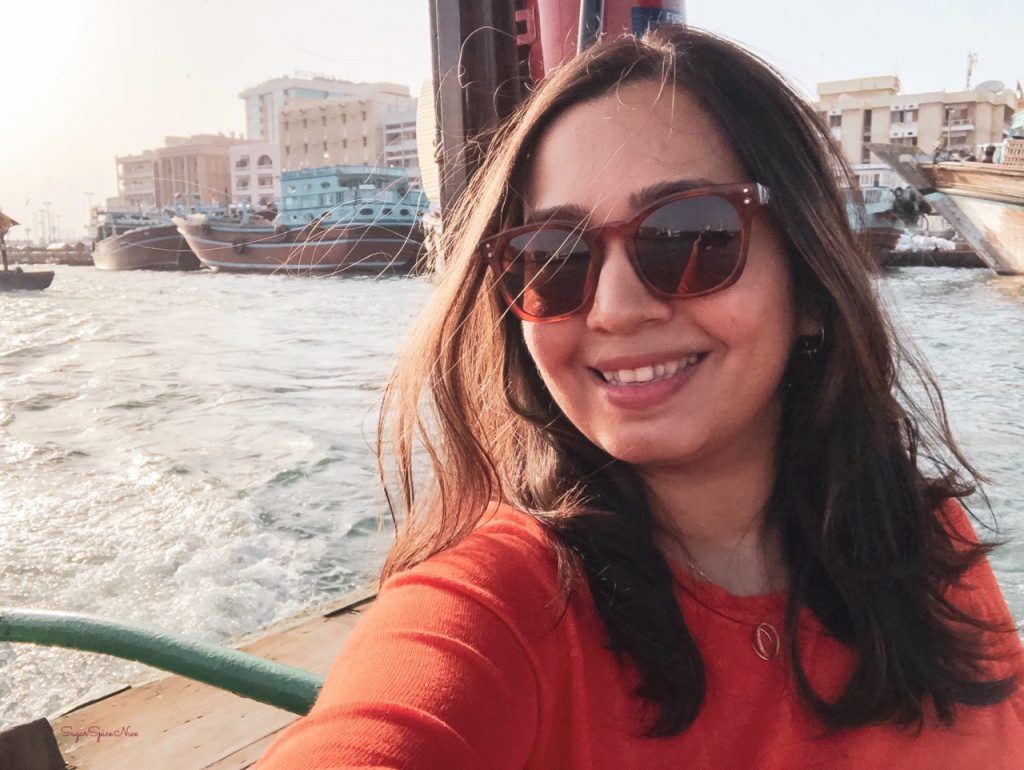 This is a must do attraction in Dubai. It's like a water taxi to go from one side of the Dubai creek to the other. And it's an old way of travelling and still exists, so in my opinion you must experience it.
Spice Souk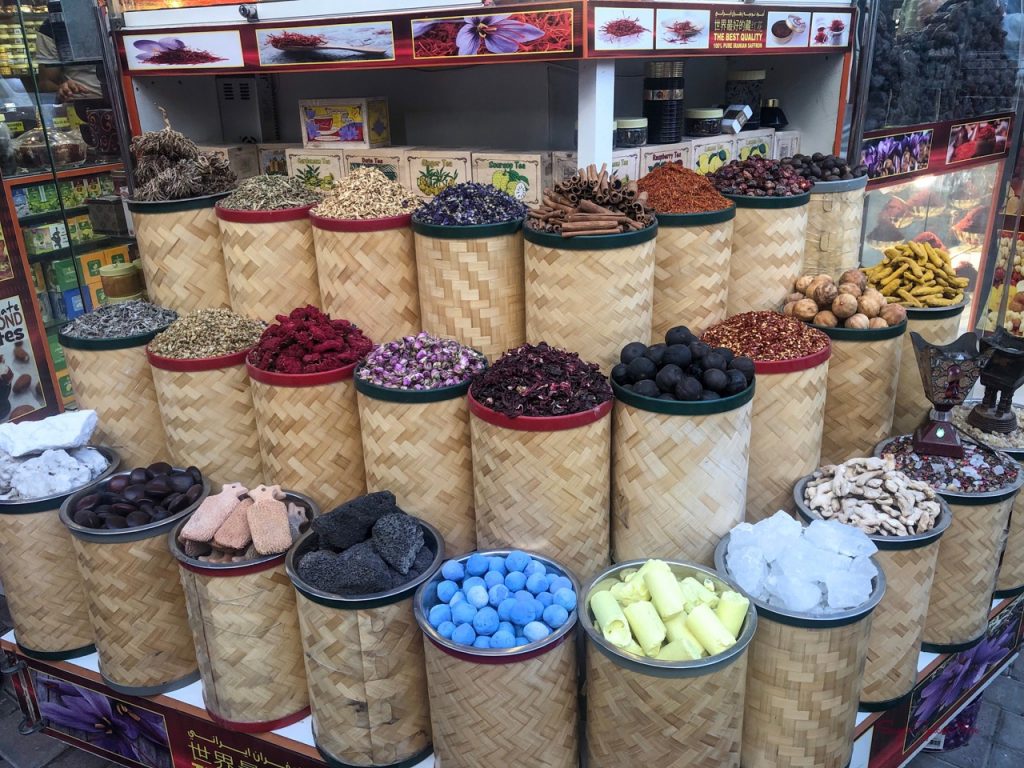 At any souk, you must remember to bargain. In the Spices souk in Old Dubai, you will find all common and rare spices from the middle east region and this is part of the main trade.
Gold Souk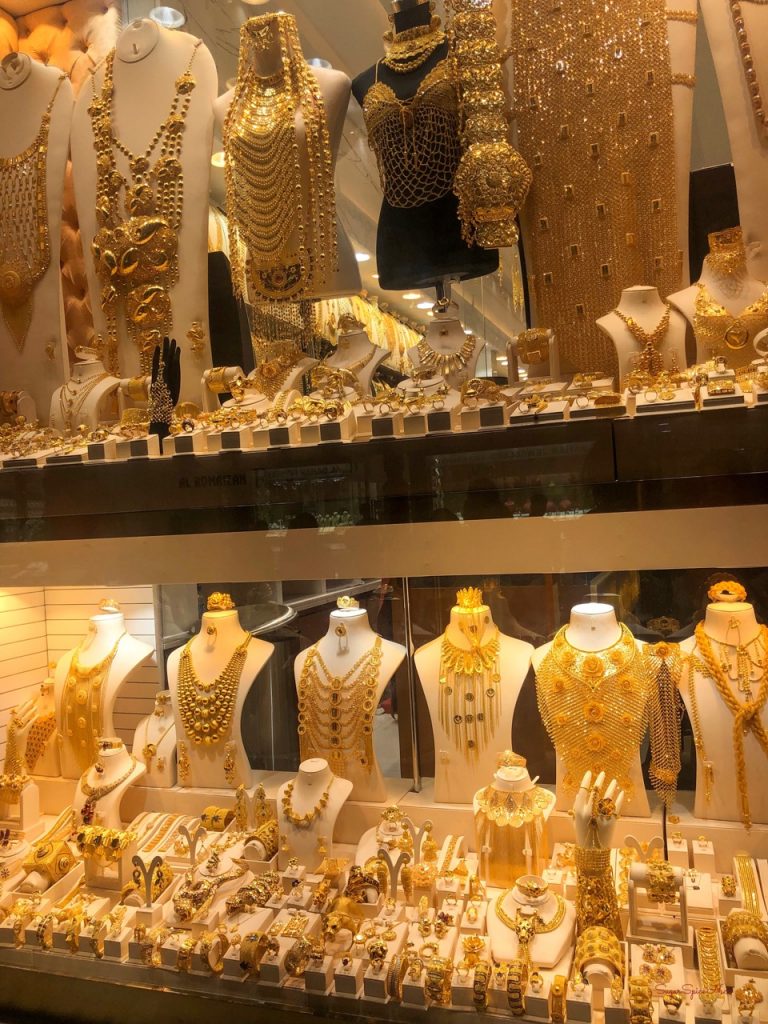 The mecca of all the gold in Dubai, well at least all thats on display! When at the gold souk, don't miss all the jewellery on display – a lot of them are heavier, bigger and more shocking than you can imagine! Of course, the shops here sell gold jewellery that is more wearable too, so don't forget to check that out.
Al Seef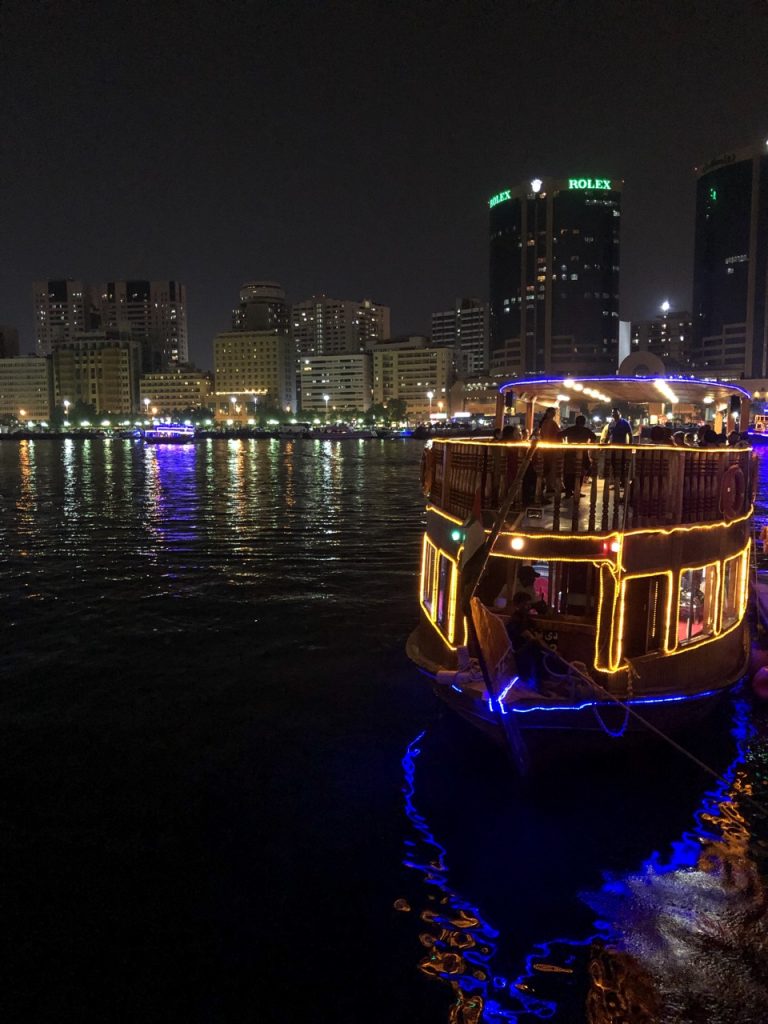 This is located next to the creek and a great way to experience Emirati culture. You can take a walking tour and see all the architecture that is demonstrative of how the old Dubai was. Al Seef also has a large number of restaurants, so you can definitely enjoy a meal here. And it's actually quite a nice place to chill and watch the colourful boats in the water.
So those are my must visits from Old Dubai. Do leave me a comment about your favorite place in Dubai, would love to know.
Watch my videos from Dubai.
Want to know more about shopping in Dubai? Click here!
Subscribe to my Youtube channel here and stay tuned for more videos.
You can also follow me on my social media. Links below.